When I first started with this post, I was planning to review any of these books. But as I sat down to write, the words wont come. Then it hit me, "You idiot, you think you can review a book? Do you even know how to begin and how to go about it? Fifth graders read more than you do." I have of course beeped out the inappropriate words for the same fifth graders. The point being, I am incapable, incompetent, and inept. I had to use three words to highlight that fact, you know how serious I am.
Yet, that does not mean I cannot recommend any book. I have (after a long break) again taken to books in a good way. The books range from many genres. So go on take a look, and pick one up for the weekend….
1)      The Day After Tomorrow – By Allan Folsom
The book starts of with a bang and keeps the pace till the end. This is one of those International thrillers which keep you at the edge of your seat. The book leads you on a chase across Europe. Allan Folsom is a Hollywood man, a Novelist and Screenwriter. This being his debut novel, he really should be applauded. The narration is really tight. The scheme of things and the magnitude of the plot just blows your mind in the end. The ending still gives me the creeps, it is brilliant. This fiction Nazi thriller commands a position here.
2)      India Unbound – By Gurcharan Das
India Unbound traces India's economic journey, the depression – the rebound, the License Raj and through everything till date. The book starts post- Independence era till date, en-route it busts a lot of myths, from the British robbing/draining the economic surplus when they were at the helm, to criticizing the Gandhi's and their equivocal economic policies. Even Jawaharlal Nehru is put under the scanner for his economic beliefs, lastly it narrates the story and changes the 1991 Liberlisation Reforms affected. Gurcharan Das is not a professor giving a lecture here, he is the Inside Man, being a consultant and well respected one at that in many big companies. This is not a Economic Thesis, yet in the end you would still know as much.
3)      Songs of Blood and Sword – A daughter's Memoir  – By Fatima Bhutto
Bhutto, that name, ring any bells? Fatima Bhutto is the daughter of (assassinated) Murtaza Bhutto, niece of Former (assassinated) Prime Minister Benazir Bhutto and granddaughter of Former ( also assassinated) Prime Minister Zulfikar Ali Bhutto. The first line itself tells you a lot. This is a story of the Bhutto family turmoil, a first hand account of the relationships, strained and close, amongst the Bhuttos. Their story was one beckoning to be told. And William Dalrymple could not have said it better, " If there is anyone born to write this story, it is Fatima Bhutto." The story revolves around Fatima's father Murtaza's Assassination, but it engulfs a lot of other members. This is one book which should not be missed at any cost.
4)      Post Birthday-World – By Lionel Shriver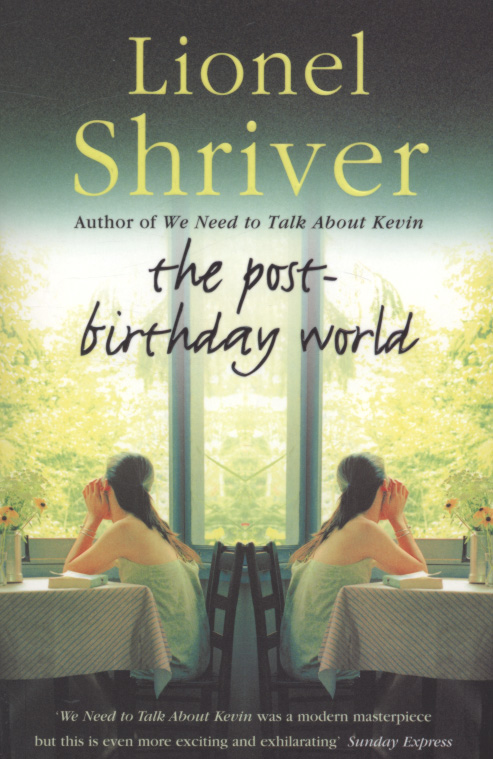 This book adopts a parallel world style of writing. Where two stories simultaneously go forward, hinging on one moment, the protagonist's birthday. One story carries ahead if Irina McGovern, who lives with her long time partner/boyfriend Lawrence, kisses Ramsey, ex-husband of a former friend, on her birthday. The other story narrates the story if Irina resists Ramsey that same night and does not kiss him. Lionel Shriver manages to narrate each story differently and yet keeps us involved in both them. The writing takes you back and forth, it could have been tricky, but the author manages to not confuse us with the stories. The novel as you can see is very different and that is what persuaded me to pick this up. I was not disappointed.
5)      The Millennium Trilogy – By Steig Larsson
1)      The Girl with the Dragon Tattoo
2)       The Girl with played with Fire
3)       The Girl who kicked the Hornet's Nest.
This trilogy is actually quite famous, written originally in Swedish, the books are widely acclaimed and International Bestsellers. The books revolve around Lisbeth Salander (the Girl obviously) and Mikael Blomkvist (journalist of the Millennium magazine). The author had left these three unpublished books at the time of his death in 2004. They became posthumous best sellers.
I am not going to individually dwell in each of the books, but I can tell you this Lisbeth – an extremely anti-social person, smart,
brilliant and one of the most leading hackers. Has a photographic memory and very dark past. Mikael – A strong and smart journalist, publisher for the Millennium, amateur sleuth and has a way with the ladies. This book summarizes the sorry state of women in Sweden. The author had witnessed a gang-rape when he was fifteen, he never forgave himself for failing to help the girl. That girl's name was Lisbeth. I am half way through the third one, I can safely say this is legendary fiction.
These books have been adapted into films by Yellow Bird. It is the highest grossing Swedish Film Series ever. Now Sony Pictures are making a Hollywood version with Daniel Creig cast as Mikael Blomkvist, and Rooney Mara as Lisbeth Salander. The first movie releasing in December 2011.
I even managed to get my hands on a X-Men comic book, boy was it good. I think I am going to take to comics for a while now, especially with the 1st Indian Comic Con on 22nd-23rd October, 2011 at World Trade Center, Mumbai coming up. Visit here to know more about it. If comics is your thing, BE THERE. Until then, Happy Reading!!
———————————————————————————————————————-
Tushar Chhajed is miffed and annoyed. He cannot get over Switchfoot's latest album 'Vice Verses'. Mail him at tusharchhajed@gmail.com . Follow him at twitter.